PSS Application Support. This was the old times with the old Microsoft logo on our business cards.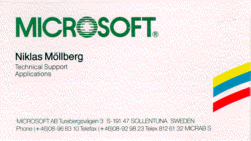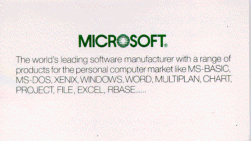 When going trough some old stuff at home, I found my first status report from June 1986!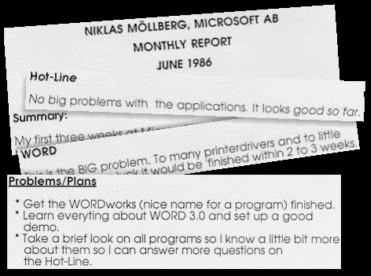 In 1986 the International Sales meeting was in Cannes, France. Will never forget that nightclub with Bill Gates and the rest of Microsofties from Sweden, and all others of course. The Canadians loved the strip show...(we didn't know about that... PROMISE!). Will never forget the price of the first Coca-Cola either, $25!!!.
In 1987 we went to Les Arc, also in France. No complaints about the view.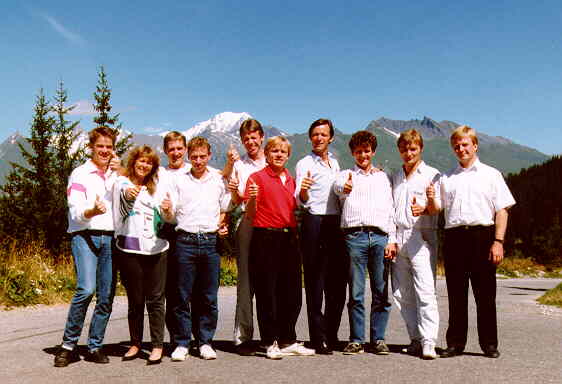 Microsoft AB - Les Arc 1987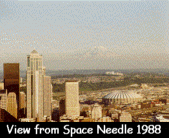 In January 1988 I visited Microsoft in Redmond for the first time. Per Lundmark (one of first Swedes in Redmond) introduced me to Anna Prince. She had this list with available positions...but couldn't ask me If I was interested. She didn't have to.
February to June this year was fun. Would I ever come back to Sweden? Well... at that time I didn't care.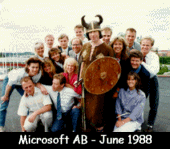 In this picture from June 1988, 2 weeks before my move to U.S.A you'll find everybody at Microsoft AB. Still don't know who the viking in the middle is. Do you know? I'm the guy to the left of the helmet.